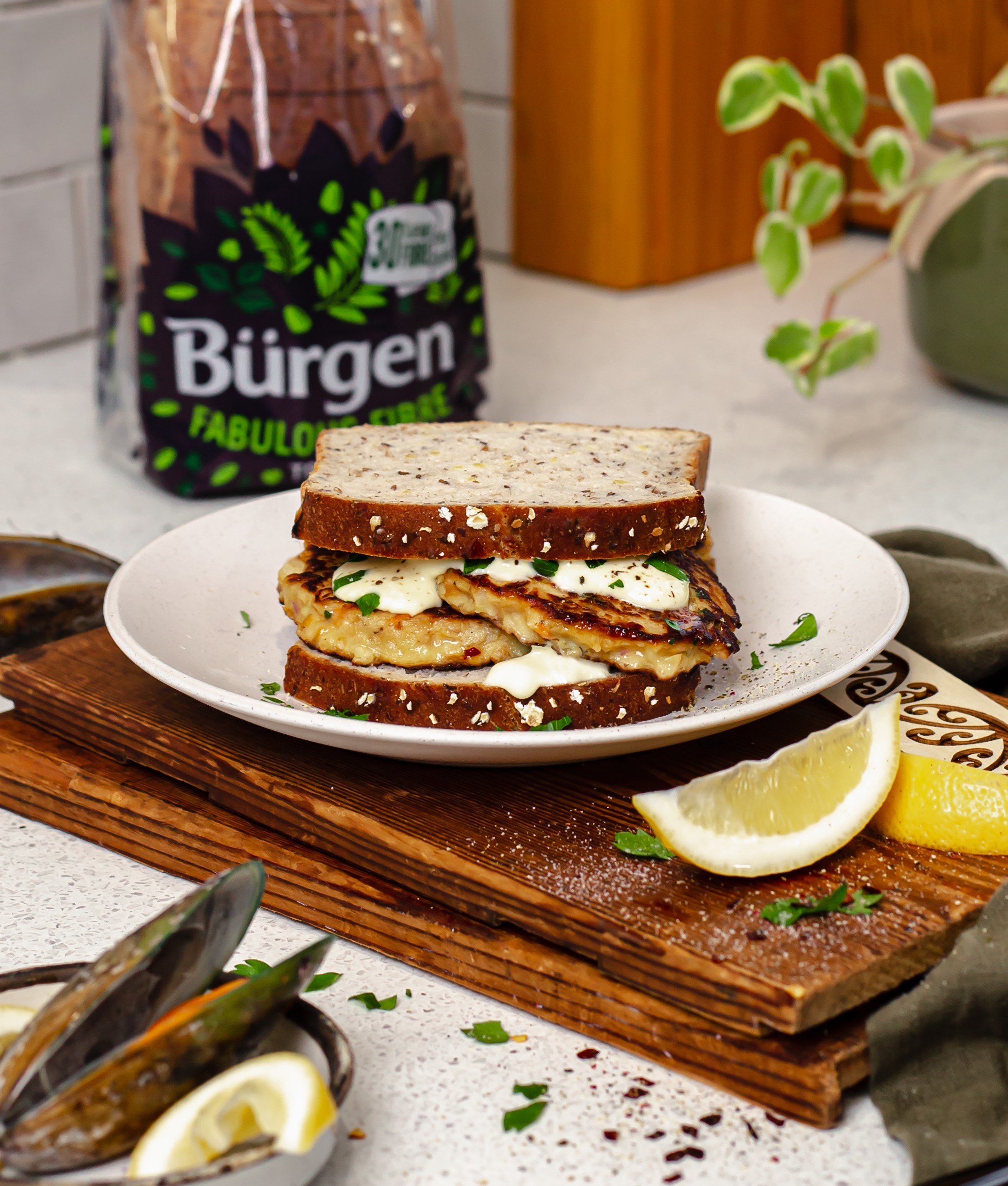 Bürgen Kumara and Mussel fritter sandwiches
Ingredients
3 Eggs (Main)
½ cup Self raising flour
½ tsp Salt
1 sprinkle Black Pepper, freshly ground
1/3 cup Buttermilk
24 Mussels, fresh, tightly closed in shells (Main)
1 medium Kumara (Main)
1 Onion, finely diced
½ cup Chopped fresh coriander, or parsley
1 small Red Chilli, finely chopped (choose a mild chilli)
1 Lemon, zest and juice
1 knob Fresh ginger, grated (a small piece)
1 drizzle Olive oil, or butter, for frying
Method
1. To make a batter, beat eggs, self-raising flour, salt, a good grind fresh black pepper and buttermilk (or milk) to form a smooth batter. Chill to rest.
2. Steam fresh (they should all be closed tightly) mussels until shells open and they're just cooked. Remove mussel meat from shells and chop into small dice. Cut 1 medium kumara into quarters and boil until tender. Cool, peel and chop into small dice.
3. Add the mussels and kumara to a mixing bowl. Add onion, coriander (or parsley), chilli, lemon zest and grated ginger and mix together. Add the batter and the lemon juice and stir to combine.
4. Heat a non-stick pan and fry large spoonful's (1/3 cup) of mix in a little olive oil or butter so they cook evenly on both sides (reserve them in a clean tea towel in a warm oven as you go).
5. To serve, squeeze with lemon, sprinkle with sea salt flakes and serve on a slice of buttered bread with a fennel and mustard mayo, or sweet chilli sauce.
*mash the kumara before adding to the batter