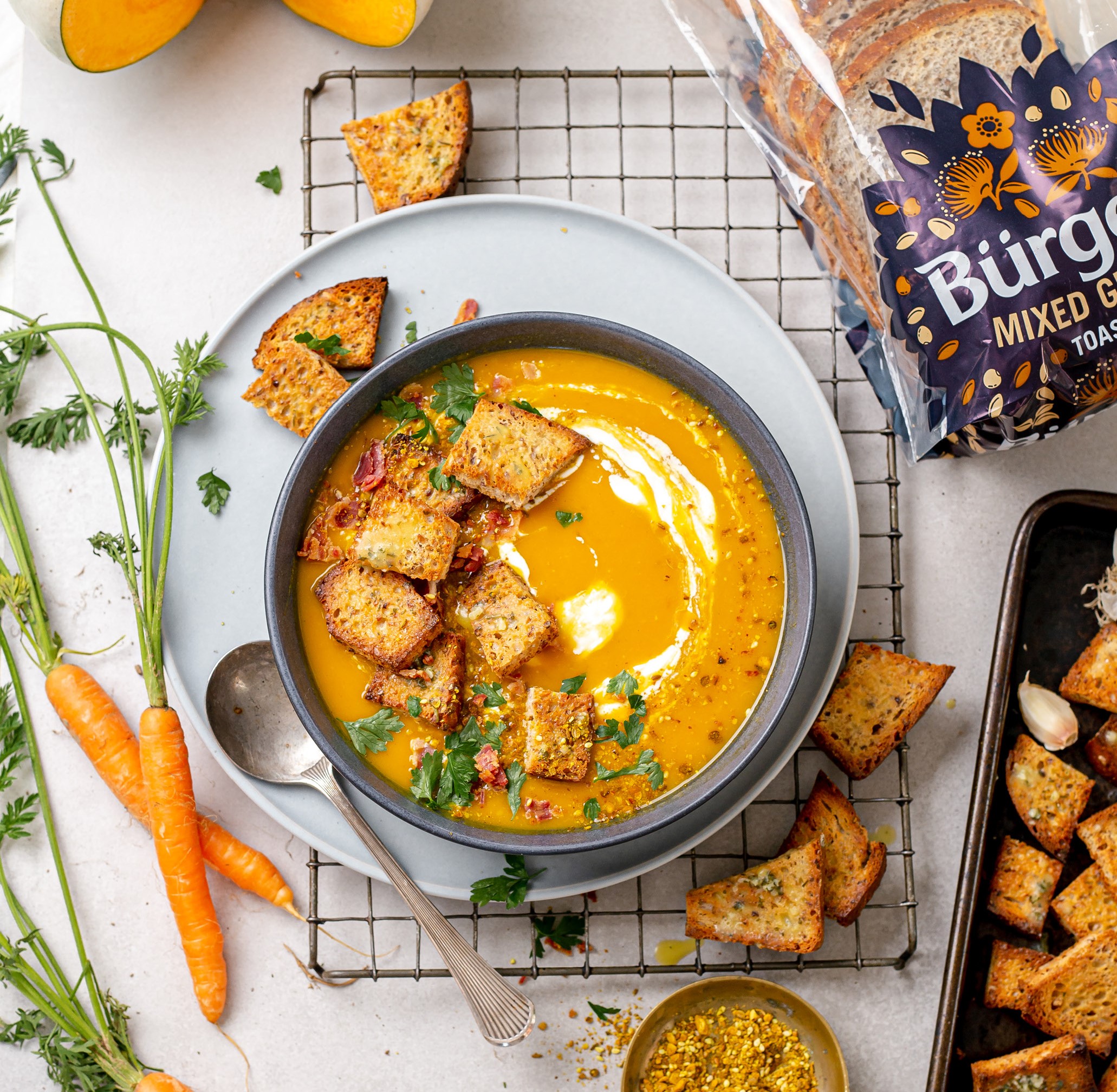 Roasted pumpkin and carrot soup with Bürgen croutons
Ingredients
Pumpkin, cut into 1cm pieces – 1 kg
Carrots, cut into 1cm pieces – 800 g
Olive oil – 1/4 cup
Brown onions, thinly sliced – 2
Salt
Cloves garlic, crushed – 2
Mustard seeds – 1 Tbsp
Coriander – 2 tsp
Ground cumin – 1 tsp
Ground turmeric – 1 tsp
Ground cardamon – 1/2 tsp
Chilli powder (optional) – 1/2 tsp
Vegetable stock – 4 cups
Method
Preheat oven to 210°C. Place pumpkin and carrot in lined roasting pan drizzle over 2 Tbsp oil and toss to coat. Roast 30-35 minutes or until golden and tender.
Heat remaining oil in large saucepan over medium heat. Add onion and salt. Cook on low, stirring often for 20 minutes or until soft. Add garlic, mustard seeds, coriander, cumin, tumeric, cardamon and chilli powder. Cook, stirring, for 2 minutes until mustard seeds start to pop.
Add pumpkin, carrot, stock and 2 cups water. Cover and bring to boil over medium heat. Cook, covered, on low for 15 minutes. Uncover. Set aside to cool slightly.
Blend ½ pumpkin mixture until smooth. Transfer into clean saucepan. Repeat with remaining mixture. Stir over low heat, until heated through.
Serve with a dollop of sour cream and Burgen croutons
Bürgen Croutons
Roughly cut 4-5 slices of Burgen bread and drizzle in your choice of oil on an oven tray and roast in the oven at 180 degrees until crispy and brown.
Top with garlic butter